Spotify, the best music streaming app is now available to download for both iOS and Android OS. You can subscribe to Spotify Premium bearly from INR 13 per day.
Spotify, one of the world's most popular music streaming services, is now launched in India.
Spotify app has been spotted on new Samsung Galaxy S10 devices which will become launched in India in early March. The music giant app launch comes after months of awaiting a possible India entry.
Earlier Spotify music app is only available for UK and US users. It is available to download in Google Play Store and Apple App Store for android and ios devices.
For old users of Spotify in India, no more 14 days abroad use warning will display for users. Indian users now no more needed VPN services to connect with Spotify every 2 weeks.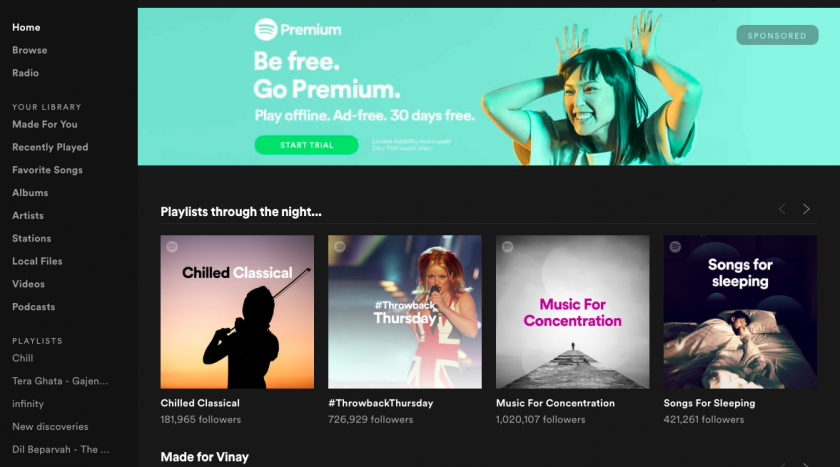 As of Wednesday morning, Spotify India website is also in production. There is also a Rs 13 per day option with no commitment to a long-term subscription.
Spotify showcased subscription chargers on its website for India, merely starting at INR 13 per day.
On Premium, users will have access to offline as well as ad-free music, high quality streaming at 320kbps. After the free 30-day Spotify Premium trials, subscribers can choose to credit/debit cards or e-wallets.
Battling Apple proves profitable for Spotify
In the fourth quarter, Spotify surprised investors with a net profit. The world's largest music streaming service with 96 million paying users, around twice the number of closest competitor Apple Music.
Commenting on the launch, Spotify founder and CEO Daniel Ek said in a release:
"India has an incredibly rich music culture, and to best serve this market, we're launching a custom-built experience.
Spotify not only brings Indian music artists to the outer world but also brings the world's trending music to fans all over India. Spotify's music family with its expansion in India just got a whole lot bigger."
Spotify in Different Languages
The Spotify India service has a good shuffle play of Bollywood and regional music content with superior playlists in other languages like Malayalam.
Spotify had announced the "addition of an enlarged catalog from T-Series,".With more than 1,60,000 songs in Hindi and regional languages in January.
Spotify India, Managing Director, Amarjit Singh Batra has said in the press release that the digital revolution has led to an exponential growth in the number of digitally.
We are looking forward to many different exclusive launches soon, as Spotify will require to make a spot for itself in a very competitive music streaming Indian market.
In India, along with local players like JioSaavn and Gaana, Apple Music and Amazon Prime .Music have been able to make a spot in recent times and hustle people to pay for subscriptions.
Speaking on the entry of a new player, Siddhartha Roy, COO, Hungama Digital Media said,
"The Indian music streaming market has witnessed a sizeable growth in terms of users.
Spotify's offers something unique shuffle play feature in comparison to these existing services.
Spotify Users will get to know what their friends listening to. Public playlists are accessible by friends.
Around the world, Spotify Music App has 207 million active users in 79 markets out of which 96 million are paid users.
The company has claimed around 30,000 new tracks are added to spotify collection each day, summing up to 3 billion playlist options.