A lanyard is a strap or cord worn around the neck which is designed to carry a small object for convenient access. Lanyards comprise of a large loop which is placed around the user neck with a small attached at the bottom for affixing hardware. Traditionally, lanyards have been used to hold and access ID cards but in modern times they are used for anything from keys and mobile phones to USB keys and lip balm.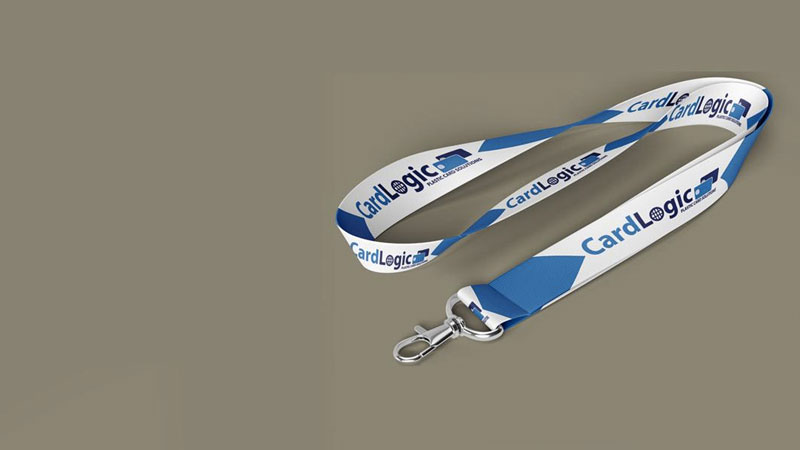 In this article we will discuss the essential lanyard constituents, from the material to the manufacturing.

MATERIALS

Lanyards are made from a variety of materials from simple nylon cord to beaded chains. The most common type is nylon material with a cut length of 36". The finished size (after looping) is approx. 17".

Many suppliers will provide lanyards in custom lengths but will usually require a minimum order quantity to process the order. Lanyards are available in a wide variety of colours off the shelf with bespoke personalised lanyards also available from specialised printers.

PRINTED LANYARDS
The material used for printed lanyards will depend on the printing process used. Nylon or cotton are used for screen printed lanyards and polyester is used for dye-sublimation printing.
Lanyard printing can be categorised into three methods:
Screen Printing:With this method, a print of the design is created on a mesh screen and the ink is then forced through the mesh, replicating the image on the lanyard strap.
Dye Sublimation: In the dye sublimation process, your design is first placed onto heat resistant transfer paper which is then ran through a heat press which fuses the design onto the cord.
Woven: With this technique, the design is woven directly into the fabric of the lanyard, similar to the embroidery.

LANYARD HARDWARE
The hardware selection will depend on the use of the lanyard. For ID badges the most common hardware choices are snap hooks and clips such as bulldog or crocodile clips.
Snap hooks are "tear drop" shaped metal or plastic which rely on tension to stay closed. A snap hook opens by applying pressure to the side to open the clip which will then spring closed upon release.
Snap Clip
Bulldog clips and crocodile clips are specifically manufactured for attached ID cards to lanyards. They are small metal devices like jaws. These clips are spring loaded and open and close when the end is squeezed.

Bulldog Clip
In addition to attachment hardware, increased personal safety concerns now require the use of breakaway connectors or "safety breakaways" for lanyards being used in schools, hospitals and businesses operating heavy machinery.
These breakaway clasps comprise of a pair of male and female connectors which break away when enough force is supplied. This is essential in hazardous environments with heavy machinery where the lanyard is liable to get caught up. The connectors are easily reconnected for continued use.

LANYARD PRODUCTION
Lanyard production varies between the materials used. For softer materials such as polyester or cotton the lanyard "loop" is formed using a metal crimp. The crimp squeezes the two ends of the cord together tightly creating the distinctive "lanyard" shape.
For woven lanyards with webbing material ranging from 3/8" to 1", the loops are formed by stitching the ends together with a specialised sewing machine. Recently, unique moulded plastic connectors have been specially developed for connecting the loop. This avoids the use of specialised machinery and can cut costs considerably.

These connectors secure the two ends of the neck strap and allow for a variety of attaching hardware ranging from snap hooks to o-rings and mobile phone holders.

The machinery used for producing lanyards ranges from heavy-duty automatic to lightweight manual foot presses. Lanyards made from heavier materials such as nylon will require a dedicated bar tack machine or a more modern digitally operated machine.