Gun drilling tool is also known to be cutting tool, which can realize cut in deep depth. This tool was generally used in gun barrel processing field. Different from old time drilling tools recent one are using carbide head, steel metal is gradually being replaced. Long-time use and overall cost come first in manufacturers eyes, so they need these tools apply carbide tips.
Speed is the soul of whole drilling procedure, which determined by the tool. And what decide the process. Drilled raw material, rotational speed and drill diameter are the three fundamental conditions. Because of its durability, industry like medical, automobile, wind power, mold etc. industries use it to make their products or projects.
To attract hole gun drill tool is not enough. BTA and ejector system are two other methods. Especially BTA (Boring and Trepanning Association) is favored by buyers and is able to be seen as the advanced and high-efficient deep hole press technology. Basically BTA drill is for holes' diameter from 20 mm to 60 mm. With technical development this drill could use a column moving type functioned with a large diameter or a combination. The machine contains high precision and high strength unit and applies an exclusive telescopic chip chute with high torque driving system.
Normally drill tip is twisted to gun barrel. In external coolant supply to internal chip transport, cutting fluid is transferred via space between drill tube and hole. Since chip evacuation is internal, groove in shank is not allowed. So cross section could be made completely around.
In addition to BTA system drill machine, there are also other gun drill machine to meet variable client requirements.
1. Multi Axis Gun Drill Machine
Type: 5 to 7 axis positioning, 2-4 spindle equipment
Performance: complex machining in single machine and work piece set-up
Application: injection mold process, mold ejector pinhole, geometry process with an angle, ordinary industrial parts with various shapes production
Running System: automatic loading system, automatic clamping system
Using Industry: automobile steering rack bars and other components, air craft parts
Classification: work piece fixed type, rotating type
2. Lathe Gun Drill Machine
Classification: fixed or rotated tool with rotating piece
Using Industry: fuel rails, wind power rotor shafts, industrial components, marine engine component, piston rod
Performance: center BTA drilling range, rapid production times, intuitive operation
Type: Horizontal lathe
3. Drill Center
Type: 2-spindle gantry
Application: wind power flange, tube sheet of desalination facilities
Running system: CNC controller make sure to control each head individually through dual system (install ATC on each spindle available)
4. Solid Carbide Gun Drill
Range Value: 8mm to 45mm drill hole, 50mm to 350mm in single pass
This carbide drill tip can be used for raw materials, like structural steel, alloy steel, stainless steel, non-ferrous metal. Compared with brazed type gun drill cutting speed is faster. Meanwhile, high rigidity feature of this drill bit minimize the eccentricity of hole.
5. Single Tube Drilling Machine
Depend on maximum 5000mm deep length, single tube system makes machine drill deeper easily. Single Tube Drilling Machine would be a perfect choice for boring a hole, and let whole process more productive and accurate. Chips and flakes occurred during this process can be removed faster.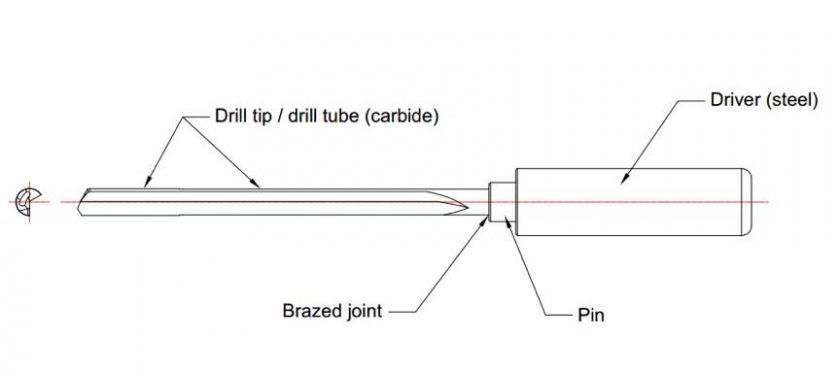 Advantages:
The most benefit of modern drill machine is straightness way better than old-fashioned screw drill. It decreases the operation times to achieve the final result you want. With multiple spindles and automatic drilling system high accuracy help make a deep hole. Durability and high quality of drilling tool let important projects not stagnate due to mechanical problems. When the tool is used in construction process, chips and would be generated. Solidness make it strong enough to deal with tough materials and save your materials, which is the direct biggest benefit, and avoid drill head damage.
Motor of this machine evades overload risks. Because machine spindle motor determines drilled hole size, or these two are complementary relationships. And that's what made this tool more accurate. On the other hand, speed and feed is the life of this machine, if precision could not be guaranteed, the tool tip would be dull or even curved easily, tool surface be cut badly. In such a situation, the rate of speed and feed must be greatly reduced. Of course, the cost increase. High temperature occurs when a drill produce, which is meanwhile a higher factor that can broke the tool. With high performance of coolant system correct processing pressure and temperature.
In summary, gun drill machine makes guarantee most of industrial fields run successfully. Because from our daily life everything may be need to bore a hole, after this work would let finished products being manufactured and contribute benefits to people, development to industrial fields. So variable types drill tools have the chance to appear.